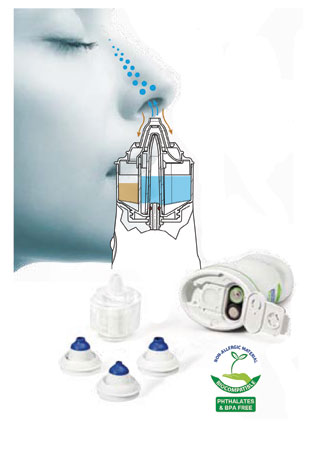 RhinoClear is a nasal irrigator specifically designed for flushing and treating the nasal cavities of both adults and children with saline solutions. The nasal irrigator is portable and operates on 2 AA batteries.
Portable
Suitable for all ages
Designed to flush and treat nasal cavities
Cordless with 2 AA batteries
Atomization chamber with a maximum capacity of 15mL
Atomization time for 10mL of NaCl – approximately 2 minutes
Compare the RhinoClear to NasoNeb
RhinoClear
NasoNeb

✔

Portable
– Less portable, more pieces

✔

Battery Powered
– Needs cord to plug in

✔

No disposables
– Multiple parts that are expensive to replace

✔

Affordable with a prescription
– More expensive for patients

✔

Free from our partner Woodland Hills Pharmacy with orders over $200
– Must purchase separately to use with compounded medications
Scientific Studies
It has been shown that topical sinus therapy is an effective way to treat rhinosinusitis. Multiple medication are available from a compounding pharmacy for use in the RhinoClear atomizer. Click here to see research on nasal therapies.
Nasal Delivery of Drugs
Nasally administered medications have been used for many years, but are only recently becoming more well-recognized. You may know about nasal spray medications used to treat allergies or congestion. There is a nasal spray version of the vaccine for influenza. However many new uses are continuing to be discovered for nasal delivery of medications.
Rhinosinusitis is a condition characterized by congestion of the nasal passages and sinuses, often with a runny nose and difficulty breathing. Your doctor may prescribe a medication to be used in the nose with a nasal spray bottle or nasal atomizer. A nasal saline rinse has also been shown to effectively reduce the symptoms of sinusitis.
There are many medications prescribed by doctors for intranasal use that are not yet approved to be sold commercially. These types of medications can sometimes be obtained from a compounding pharmacist with the knowledge and skills to make them. Our sister company, Woodland Hills Pharmacy, may be able to help if you are looking for more information on nasal drug delivery.
Other Nasal Rinse Devices
Another nasal atomizer device that was similar to the Rhino Clear was the Nasotouch. The Nasotouch atomizer is no longer manufactured, and the Rhino Clear has taken its place. Other nasal spray devices include:
SinusPulse: A larger, more expensive device that is not portable. It does not atomize but instead acts as an irrigator like a neti pot.
NeilMed Sinus Rinse: Simply a bottle with a spray tip – does not atomize a solution and is not automatic (spray is pumped by hand).
Neti Pot: The traditional method of nasal irrigation, which can be messy and ineffective.